TRACK LAB RESULTS TO OPTIMIZE TASTE
To enhance product quality and consistency
and profitability
QIS is a full lab information system that improves control over the quality of wine and beer production, and test results are fully integrated with our operational software systems
What sets us apart? QIS Highlights
Monitors specifications to tighten control over quality, taste profile and performance
Tracks the quality of test parameters from raw ingredients to product sampling, processes, and equipment (to ensure correct calibration)
Delivers test results to brew masters, winemakers and operations staff so they can adjust the production process if necessary
Replaces paperwork with quick access to real time electronic data, which streamlines data processing and quality monitoring for lab technicians
Enables traceability from raw materials to finished product, including which instruments are used on each test, to manage any product returns
Provides data to analyze returns and recalls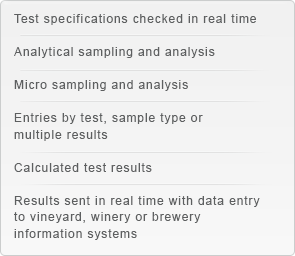 ---
Leading the field
Customers choose beer and wine brands for their distinctive taste profiles: the qualities beer lovers recognize in a particular lager, ale or stout; or oenophiles savour in a Sauvignon Blanc, Syrah or sparkling Chardonnay Customers expect that unique product taste no matter where the beverage was produced. QIS can easily manage product analyses to achieve consistent quality taste profiles. And we customize Flowmation's system for small, medium and larger scale operations..
---

QIS achieves real time quality assurance
Capture electronic laboratory data - Quality test data gets transferred into your QIS system to save time and ensure compliance; no more lab notebooks, analytical worksheets or record filing!
Automatic calculations - Electronic calculations eliminate manual errors and checks, reducing sample turnaround times
Data mining - Use electronic QIS data to generate data trending, sample cycle reports and certificates of analysis for approved samples, without manually compiling the data
Automate test schedules - Set up automatic tracking for particular lots, so sample tests are performed at specified intervals only
Track instrument calibration and maintenance - QIS can monitor instrument status, calibration and maintenance testing, and flag when a calibration test is due